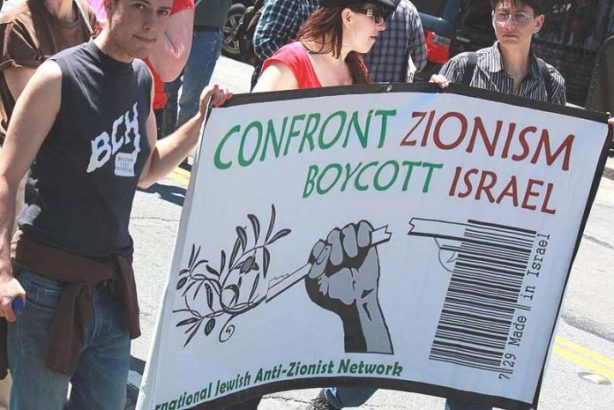 Kenneth Waltzer is the executive director of the Academic Engagement Network, a national US faculty organisation committed to countering Boycott, Divestment and Sanctions (BDS). In this survey of BDS activity on US campuses he argues that, where BDS has a following, Jewish students are increasingly being consigned to a place of insult and derision, barred from progressive causes, and labelled oppressors. Those who come to their aid get similar treatment. BDS is morphing into an attack on the equal rights of Jewish students to associate freely with others on campus, to shape their own organisations and goals, to express their religious and cultural identity and to observe their heritage free from coercion by others.
During the fall semester, when little was happening on the anti-Israel Hard Left on American campuses, we could have been forgiven for thinking that perhaps the Boycott, Divestment and Sanctions (BDS) movement had slowed. But as the year continued, coinciding with Israel's 70th anniversary, the pace of BDS efforts increased and included something relatively new: efforts to mark off, isolate, and ghettoise Jews supporting Israel on campuses, while characterising Jews in ways that are deeply worrying.
BDS ON CAMPUS
Overall, the BDS movement generated some 22 campaigns on American campuses in 2017-18, two more than it did in 2016-17. This number was down from the immediate post-Gaza incursion peak years when BDS forces mounted 44 campaigns in 2014-15 and 33 during 2016-17, 77 in all. The recent period saw BDS organising 42 campaigns in two years. BDS forces claimed victory this year in 9 of the 22 campaigns it sponsored, a 41 per cent rate of success.
Late in the year, the renewed intensity of the BDS campaigns contrasted notably with the year's beginning. If anything, campuses were still reeling from the events at Charlottesville in August 2017 and the appearance by neo-Nazis and white supremacists at the University of Virginia with swastikas, torches and disturbing signs vowing 'Jews will not replace us'. University leaders were also preoccupied with the growing conflict over free speech involving primarily alt-Right speakers and demands for access to public fora on campuses. Richard Spencer stirred concerns by threats to sue institutions infringing on his first amendment right to speak and by actively bringing radicals to campus, threatening real violence. At the University of Florida, the governor mobilised the Florida guard.
BDS forces scored successes in November, passing divestment resolutions in several student governments; surprisingly, first at the University of Michigan (UM), where BDS had repeatedly failed until then, at Ohio State University, the University of South Florida, the University of Minnesota, New York University (NYU), George Washington University, and recently, Barnard (in a campus referendum) and the University of Oregon. Such victories were symbolic only, as university presidents and boards of trustees quickly announced they opposed BDS and would not divest university financial holdings. On the other side of the ledger, BDS was solidly defeated at the University of Maryland, Northeastern University, the University of Illinois-Urbana Champaign, the City University of New York, Earlham, Swarthmore, Case Western Reserve University, and the University of California at Santa Barbara. READ MORE.